Allan O'Donovan
ciaoallan@gmail.com
213-820-6713
San Diego, CA

United States
---
Dorsoduro, LLC


Restaurant and Spirits Consultant, Certified Sommelier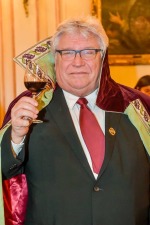 ---
Allan O'Donovan began his career in food and beverage in an unique way. As an Army Helicopter Pilot in Vietnam at the age of 19, he was assigned an additional duty managing the Officer's Club that was failing. In less than a month, the club had turned around into one of the most popular watering holes in Saigon, not only for the Military, but also Embassy staff and civilian contractors.
On his return to the US, he was assigned to be Assistant Club Officer at the large Club at Hunter Army Airfield in Savannah until his discharge.
Returning to finish his communication education at Boston University, he revived the independent student newspaper "The Daily Free Press", which today is still one of the top college newspapers, where in addition to operating the business side, was able to polish his writing skills as an editor, theatre and restaurant critic. After graduation he worked as a free lance writer and PR professional earning an award for Best Newspaper Design by the Labor Press Association. He continues to work in various editing projects.
Pursuing a career in aviation, he served as a pilot for several domestic and international airlines until retiring from what is now American Airlines. Traveling extensively, he was exposed to many and diverse hospitality venues giving him a unique view of varied operations; the good and the bad.
After retiring he opened a restaurant in Toluca Lake, CA, CiaoCristina! serving as Sommelier and Bar Manager in addition to his ownership duties. He sold the restaurant in 2015 but continues in a consultant capacity.